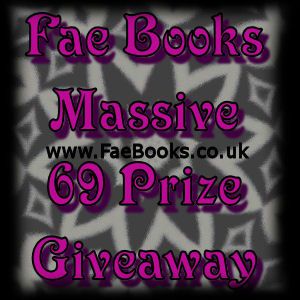 Hello and welcome to Fae Books.
You've found the

blog post

for my "M

assive

6

9 Prize

G

iveaway"
where there are 69

prizes
from

15

awesome Authors,
meaning LOTS of winners!
THE GIVEAWAY IS NOW
OPEN
W

ant a

space on the Rafflecopter for your

link?
All you have to do is Contact Me, add the opening and closing dates for the giveaway to your diary and agree to share the giveaway throughout th

e 6 week period. Easy!
C
lick here to head to the dedicated giveaway page

on the Fae Books site

, or read on to find the Rafflecopter at the bottom of the page

.


Fae Books Giveaway Start & End Times:


This giveaway
opens on:

Tuesday Feb 19th at 12:00am UK Time (GMT)
The giveaway closes on

:
Tuesday April 2nd at 12:00am UK Time (GMT)
Sponsoring Authors:
(Click the names to view their Amazon Author

P

ages)

S K Wh
iteside
Ashley Lavering
Amy Keen
Renee Curtis
Ashley Torbeck
Amanda Torrey
Melissa A Smi

th
R A Sears
M L Stephens
K M Dylan
M R Polish
Karen Dales
Tabitha

Short
James Crawford
Lindsay Anne Kendal
J

M Schroder
About The Authors:
S K White
side -
S.K. Whiteside is a Fiction Weaver and World Creator. It just so happens that the worlds she creates are often filled with things that go bump in the night. A New Orleanian at heart, the deep south often serves as the setting for her Paranormal Tales of the unknown. Her Charismatic characters and snarky banter often derive from the various personas of those she loves and the voices in her head. When not writing she spends her time telling everyone else in the world that they are completely bonkers but yet she often channels Napoleon Bonaparte. During her down time she pokes at the massive giant whom holds her captive and runs from two monsters that she swears are out to kill her. Some people call them her husband and children but she knows the truth...
For more information you can visit her website at www.skwhiteside.com
Ashley Lavering -
A nomad at heart, I currently claim Nevada as my home. I have a wonderful husband and two young children that put up with my "writing time." When I'm not pondering on a spell that will magically calm the ferocious winds that plague the air around me, you can find me, with notepad in hand, frantically jotting down ideas in those short moments between caring for my girls.
Art and science have always been my yin and yang. Throughout my college career, I shifted between the two, but in the end I graduated with a Bachelors of Mathematics and Science from the University of Wyoming.
Charging into adventures and discovering something new has always been a passion of mine, but as a teenager I use to run screaming from a reading or writing assignment. Looking back, the irony isn't lost on me. Now you can't catch me without a book in hand or without an open word document. Every time a new idea pops into my mind my heart races and my hand twitch to write it. In that moment, I have my writer's high and pray it will sustain me through thousands of hours of revision.
Amy Keen -
Amy Keen is a Young Adult fiction author whose passion for the paranormal drove her to create a series which would deliver the kind of thrills, suspense and intrigue she grew up devouring.
Amy studied Journalism and International Relations at University of Lincoln to feed her passion for writing before a chance placement saw her embark on a successful career in Public Relations.
Her drive to tell stories started when she was no more than five and endured well into her teens; when she began to move away from writing short stories and focus on her desire to write a complete novel. Many ideas fell by the wayside as they just didn't seem right; until she created the world of her heroine Scarlett and the story that later became her debut novel, Embers.
Renee Curtis -
Born and raised in Longview Texas, Renee' is the youngest of six children. She began reading at an early age, and that love has yet to fade. Her favorite book as a child was Charlotte's Web by E.B. White and as a teen The Scarlet Letter by Nathaniel Hawthorne. She later found Jackie Collins, John Grisham and more recently Olivia Cunning. Her bookshelves overflow with their well developed characters, clever, sexy, exciting story lines and beautiful

locales.
Though becoming a writer was never something that she endeavored to be, it did come to her in the form of a dream. After getting encouragement from some friends in 2008, she set about writing "love/life"as a romance story for the new millennium. Four years, a divorce and a spectacular new relationship later, she finished a quasi romance/erotica story of the Hawthorne sisters and their sin-sational lives.
In her spare time, Renee' enjoys golf, movies, hanging out with friends and spending time with her family. Her all-time favorite movie is A Time to Kill starring fellow Longview alum Matthew McConnaughey. Others include Boondock Saints, Casino Royale with Daniel Craig and anything with Jason Statham.

She loves music, and her Ipod is a mix of indie, alt, pop, and maybe even a country song or two (think fellow Texans Steve Earle or Pat Green). Television is a rarity, but comes in the form occasionally of BBC America's Top Gear or the brash and funny Daniel Tosh of Tosh.0. She also lays claim to the title of #1 Dallas Star's hockey fan (just ask to see the tattoo for proof).
She currently resides in the Dallas Ft. Worth Metroplex with her family.
Ashley Torbeck -
An avid reader and sarcasm specialist, Ashley's quirky and bubbly personality stems from the vast amount of information she crammed into her head as a child. No genre was off limits, but she developed a fondness for Stephen King books early on. Of course, growing up in Eastern Kentucky, life moved a little slower, so books became her closest friends.
Fast forward a few years, and the vast insanity that surrounded Ashley became her life. In January 2009, she married the only person on Earth as insane as herself, and they now reside in Louisville, Kentucky, patiently awaiting the zombie apocalypse while she taps away at the laptop with a plethora of stories to keep you entertained.
Daughters of Night: Sanctuary, as well as Daughters of Night: Possession, are both currently available for purchase in paperback and in eReader format. The third and final installment of the Daughters of Night series is currently in the works. Look for Daughters of Night: Tribulation, in the Spring of 2013.
Amanda Torrey -
Amanda Torrey is the author of the debut YA novel, Teen Fury: Unleashed. She lives in Massachusetts, and is currently working on the second book of a planned trilogy. Amanda enjoys spending time with her children, reading, writing, dancing around the kitchen to loud music, cooking (when in the mood), and spending time in nature. She enjoys unstructured time in the woods or at the ocean, and never says no to a chocolate chip cookie.
Melissa A S
mith -
I live in the midwest with my husband and two teenaged sons. When I'm not writing, I'm reading. And when I'm not doing either of those things, I'm laughing with my family!
I hope that all who have read any and all of my stories, enjoy the adventures and come back for more!
R A Sears -
Like many, her story begins with being born. After a harrowing journey through a blizzard, her parents brought her into the world in a small hospital in Northern New York in February of 1986. She spent much of her childhood outdoors, loving the wilderness and feeling more at home with the creatures in it than her own classmates. Always a storyteller, even before she could write anything on her own, she often told narratives to her parents to put off bedtime, even if it was only for a few minutes.
Mainly a writer of supernatural/urban fantasy fiction, Randi's been seriously writing since she was 13, honing her craft to have a blade of storytelling as sharp as her rapier wit. Inspired by a childhood full of action and horror films, as well as a more-than-healthy dose of comics (both American and not), her writing style has often been described thus: "It felt like I was watching a movie, not reading a book." With a style heavy on both visuals and plot, she hopes to enrapture many with her prose.
She began what has now become known as The Ragnarok Legacy when she was a junior in high school. The first book "Lunacy" is now available, after being revised and in the works for nearly a decade. She's working on the sequel "Sanguinarium" to be released some time in the fall/winter of 2013 in her downtime of preparing for the birth of her first son, Hunter.
Randi (Miss R.A.) currently lives near (but not in) the thriving metropolis of Baltimore, Maryland. She shares her home with her two cats, Chester and Nergal, a dog rescued from Afghanistan who goes by the name Renegade, and her husband Adam, who proudly serves in the United States Military.
Occasionally having to give in to the Dark Side, she also writes erotica under the name Kassi Darq-Chylde.
What can you expect from her work in both the realm of erotica and less saucy fiction? "Werewolves, vampires, gods reborn, action, steamy scenes, and sometimes pie. Mmm... Pie."
M L Stephens -
I write the characters and stories that scream the loudest.
I have an unshakable fetish for a good mystery and anything paranormal, along with an insatiable appetite for coffee and travel. When I'm not reading the novels of so many great authors, I'm creating stories of my own. My family keeps me grounded, my pets keep me jumping, my friends keep me focused, and it all happens in Texas!
K M Dylan -
M R Polish -
I have always had a vivid imagination, whether I was five years old pretending my storybooks were cookbooks and spellbooks, or now in my (mysterious number) writing down what the voices tell me. Fantasy and paranormal are my favorite, but not the only thing I write or read. I read just about anything that intrigues me, although I am a wife and a mother to four wonderful kids, so reading time is late at night when the house is quiet. Dragons, vampires, witches, fairies, magical, mythical, historical, time travel, romance... I love it all. I also love inspirational books. My favorite religious author is Gerald Lund, author of the Kingdom in the Crown series and the Work and the Glory series among many others. Another personal favorite genre is historical romance with Native Americans. Mmmm... Love warriors. I have read the Savage Destiny series by Rosanne Bittner with Zeke at least fifty times... no, I am not exaggerating. *Deep sigh... Zeke...

Writing has always been a passion for me. When I was in the 5th grade, I won a scary short story contest for Halloween with the school newspaper. After that, the ink didn't stop flowing. I would write songs, poems, short stories and occasionally try my hand a novel (which was my deepest desire), but nothing ever came out that I thought was good enough. Until, Wolf Spell. It came to me and crawled under my skin till I itched to get it on paper. After that, ideas came at me full force. Series, trilogies, stand alone... Characters came to me in the middle of the night with incredible ideas and I listened. My writing comes from deep inside, from my heart. I pour out everything on paper, living lives and creating worlds that only I can see, wanting to share them with the world. And don't forget... Love that makes the heart race and ache for more.

I am truly blessed by our Heavenly Father to be able to do what I truly love. I am blessed with my family, and all the support and love I have. I love you all.
Karen Dales -
Karen Dales is the Award Winning Author of "The Chosen Chronicles."
Kelley Armstrong, #1 New York Times Best Selling Author, says of Karen's work "Dark...compelling...that will keep readers turning the pages well past bedtime."
Michelle Rowen, National Best Selling Author says of Karen's novels, "A dark and gripping tale by a true mistress of supernatural fiction. Karen Dales brings fresh blood to the vampire genre."
Karen Dales began writing "Changeling: Prelude to the Chosen Chronicles" and "Angel of Death: Book One of the Chosen Chronicles" after she was inspired to create the character of The Angel for an on-line role playing game she was part of. It was from that experience the birth of The Angel was formed and through years of research Karen fleshed out The Angel and other characters that came to her.
Having completed York University's Creative Writing courses years previously, Karen began to write "Changeling" and "Angel of Death" as one novel. It was on their completions that it was clear they were two distinct novels of an evolving series that has come to include "Shadow of Death: Book Two of the Chosen Chronicles."
Karen is currently writing the next installment - "Thanatos: Book Three of the Chosen Chosen Chronicles."
Since the publication of both "Changeling" and "Angel of Death" in a limited edition single volume, Karen has been an Author Guest at, Polaris, AdAstra, FanExpo, and has appeared at Word On The Street. You can find out her future appearances by clicking http://karendales.com/appearances.html
In January 2011 Karen's book "Angel of Death" which included "Changeling" won the Siren Books Awards for Best Horror 2010 and Best Overall 2010.
Karen loves hearing from you. If you have a question or comment please feel free to email it to her at karendales@karendales.com
Tabitha Short -
Tabitha Short is the author of many horror short stories including The Roller Coaster of Terror and The Please DO Feed The Animals ZOO.
Her YA novel, Arena Games: The Legend of Petrova, is due for publication March 19, 2013.
The Corpses of Old Farm Hill Road: The Arrogant Man is the first in a series of horror short stories. The second will be subtitled The Lost Soul. There are expected to be five to seven books in the series and will be released throughout 2013.
James Crawford -
James
grew up in Foxbourgh, PA. He currently lives in Hornlake, Ms with his partner of five years.
Lindsay Anne Kendal -
JM S
chro

der

-
Som

e links for the Au

thors:
S K Whiteside
: Facebook, Goodreads, Website/Blog, T

witter
Ashley Lavering:
Facebook, Goodreads, Website/Blog, T

witter
Amy Keen:
Facebook, Goodreads, Website/Blog, T

witter
Renee Curtis:
Facebook, Goodreads, Website/Blog, T

witter
Ashley Torbeck:
Facebook, Goodreads, Website/Blog, T

witter
Amanda Torrey:
Facebook, Goodreads, Website/Blog, T

witter
Melissa A Smith:
Facebook, Goodreads, Website/Blog, T

witter
R A Sears:
Facebook, Goodreads, Website

/Blog

, T

witter
M L Stephens:
Facebook, Goodreads, Website/Blog, T

witter
K M Dylan:
Facebook, Goodreads, Website/Blog
M R Polish:
Facebook, Goodreads, Website/Blog, T

witter
Karen Dales:
Facebook, Goodreads, Website/Blog, T

witter
Tabitha Short:
Facebook, Goodreads, Website/Blog, T

witter
James Crawford:
Facebook, Goodreads, Website/Blog, T

witter
Lindsay Anne Kendal:
Facebook, Goodreads, Website/Blog, T

witter
J
M Schroder:
Facebook, Goodreads, Website/Blog, T

witter
W

ant a

space on the Rafflecopter for your

link?
All you have to do is Contact Me, add the opening and closing dates for the giveaway to your diary and agree to share the giveaway throughout th

e 6 week period. Easy!
Giveaway:
Each winner gets one prize, aside from the tw

o "sets"

mentioned at the very top, you get one set of a book and matching poster, both signed, per winner (2 winners = 2 sets).
a Rafflecopter giveaway